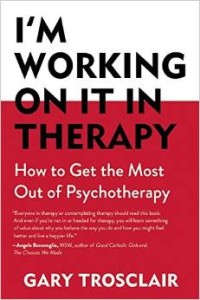 Faculty member Gary Trosclair's new book, I'm Working On It In Therapy: How To Get The Most Out Of Psychotherapy, was released by Skyhorse Publishing on June 9th 2015. Using case examples, stories from mythology and literature, research, and New Yorker cartoons, he explains ten tools that clients can use to make their time in psychodynamic therapy as effective as possible.
Former Director of Training at the C.G. Jung Institute of New York, Gary Trosclair, DMA, LCSW, has taught and practiced psychotherapy in New York City and Westchester County, New York for twenty-five years.  Through his blogging for Huffington Post and public speaking, he brings psychological theory and research down to earth for those seek to use it to achieve positive change in their lives.
I'm Working On It In Therapy is available at Barnes and Noble, Amazon, iBooks, and IndieBound.