C.G. Jung Center
The Institute is located at the C.G. Jung Center, a five story mansion at 28 East 39th Street, New York City. It is operated in close cooperation with the other Jungian organizations at the same location. These unique resources are available to all students of the Institute: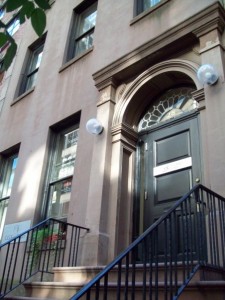 C.G. Jung Foundation for Analytical Psychology sponsors numerous programs and classes on Jungian psychology for the public and professionals, runs a Book Store for the public, and publishes the journal, Quadrant, devoted to the work of Jung.
New York Association for Analytical Psychology (NYAAP) is a professional society of Jungian Analysts based in the Greater New York Area, with members throughout the United States and Canada. Members of NYAAP offer Jungian Analysis to the public and disseminate and develop Jung's ideas through public lectures and scholarship.
The Kristine Mann Library, the premier Jungian Library in this country, houses an extensive collection on Jungian Analytical Psychology and other schools of depth psychology, as well as in the fields of cross-cultural mythology and spiritual studies.  The Library also contains leading Jungian journals, films, and audio lectures.
The Archive for Research in Archetypal Symbolism (ARAS) is a symbol library containing an extensive collection of images which illustrate archetypal themes from ancient to modern times.
Analytical Psychology Club of New York (APC), formed in 1936, provides a gathering place for self-discovery, the key to Jungian therapy. The Club hosts social gatherings, meetings, and study and discussion groups where members and guests exchange ideas, thoughts and feelings about Analytical Psychology. Membership is open to those who have completed 50 hours of Jungian-oriented therapy and have been recommended by a qualified therapist.
Additional Resources
(IAAP) International Association of Analytical Psychology was founded in 1955 and is the umbrella organization of Jungian professional societies world-wide.
The Journal of Jungian Theory and Practice has been discontinued for the present. We are planning on reactivating the journal as soon as possible. If you would like to obtain an archive issue, please contact the Institute office at cgjunginstitute.ny@verizon.net
Philemon Foundation is a non-profit foundation dedicated to preparing for publication the Complete Works of C.G. Jung.